A short biography of
Marion Davies
By Robert Board
Marion Davies was born Marion Douras in Brooklyn, New York on January 3rd, 1897. She had strong leanings toward the stage during her school days as she watched her sisters achieve success in show business. Upon leaving school she found herself in demand as a model for famous painters of the day. By the time William Randolph Hearst, America's most famous publisher, met her she had already made a name for herself on the Broadway stage. In the years 1915 to 1917 she appeared in "Chin-Chin," "Stop Look and Listen," "Ziegfeld Follies," "Betty," "Words and Music," "Miss 1917," and "Oh Boy." Her first film was "Runaway Romany" directed by her brother-in-law, George Lederer. Supposedly she had written the script herself. "Cecilia of the Pink Roses" in 1918 was her first film backed by Hearst. She was on her way to being the most famously advertised actress in the world.
During the next ten years she appeared in twenty-nine films, an average of almost three films a year. She was a tireless worker, always trying to live up to the relentless promotional campaigns launched by Hearst.
In the early twenties, she and Hearst moved their company, Cosmopolitan Productions, to California and joined forces with Metro-Goldwyn-Mayer studios. Marion became Hollywood's premiere hostess. Her parties at the fabulous beach house Hearst had built at Santa Monica attracted the days biggest stars. Dignitaries from all over the world were eager to accept her invitations. She never took herself seriously and was beloved by all who knew her. Studio old timers never tired of telling stories of her charities and help for those who needed it.
Marion had a slight stutter when excited and many talked of her retirement when sound came to the films. There need not have been any worry for her career hit a new high in the talkies. She became a leader in various charitable organizations in Hollywood: a member of the Motion Picture Relief Fund, Academy of Motion Picture Arts and Sciences, Actors Equity and the Screen Guild. Her generosity extended to a children's clinic which she established in the late twenties not far from the Metro studios. The Marion Davies Children's Clinic still stands at the UCLA Medical Center in Los Angeles.
Marion's career would continue to flourish at MGM until her contract ran out in 1934. Hearst was angry with MGM for not giving Marion the lead in two upcoming productions (The Barretts of Wimpole Street and Marie Antoinette) so he relocated her eleven room bungalow to the Warner Brothers lot and Marion finished her last four films at Warner's Burbank studios. Marion filmed a total of sixteen pictures between 1929 and 1937, an average of two a year, yet she still made time for five or six radio appearances.
The Hearst Corporation was in bad straits by the late thirties. Marion's selfless act of selling some of her jewelry enabled her to give Hearst a check for a million dollars to bail his ailing company out of debt. After her retirement, Twentieth Century Fox offered her the role of Dorothy McGuire's mother in "Claudia," but Hearst refused because in the story the character died of Cancer. This was to be the disease which would eventually take Marion in 1961. Marion rests in the Hollywood Forever Cemetery.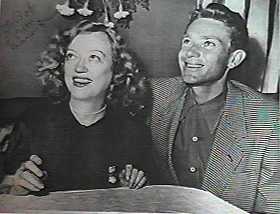 [Bob Board resides in Hollywood and has spent most of his life researching and cataloging the life of Marion Davies. Bob had the opportunity to meet Miss Davies in the 1950's (That's him with Marion in the photo!) and currently operates a private Marion Davies Museum. Many of the photos on these pages are from Bob's vast collection for which I'm deeply grateful]